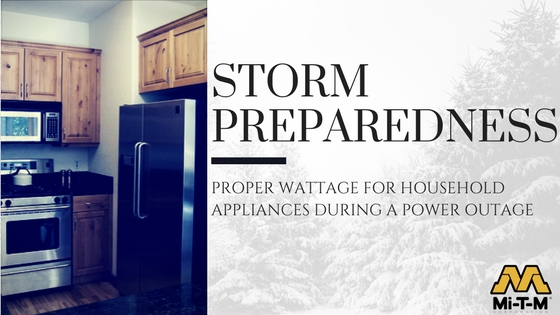 Portable Generators and Proper Wattage for Different Appliances
Snow. Wind. Ice. Electrical storms. All these elements can wipe out your home's power grid in the short- or long-term. Are you prepared? Don't be left in the dark. Let Mi-T-M help you prepare for outages.
Electricity is a commodity most Americans take for granted. But when winter ice storms and spring rains knock out our power, many people go into full panic mode. The news is often full of U.S. cities and entire regions crippled by blackouts.
If your electricity goes out, questions begin running through your mind: How long will our food last in the refrigerator? How will we stay warm? Where can we hear the news? What if our basement floods? Where can we charge our appliances? How will we cook our meals? Is the water safe to drink? How can we open our garage automatic doors?
We can't control the weather, but we can help you plan ahead and prepare for emergencies. Mi-T-M sells a large array of equipment that helps homeowners stay safe during storms and power outages. How? Our generators convert mechanical energy into electricity. For homes, our unique inverters are designed with inverter technology for reduced size, weight, noise, and fuel consumption.
Our generators come in many sizes—from 2,000 watts to 14,000 watts—and types, including portable generators for residential use and commercial models. These rugged machines provide safe, reliable, and quiet backup for your home electrical needs. Different appliances require different levels of wattage as this graphic shows.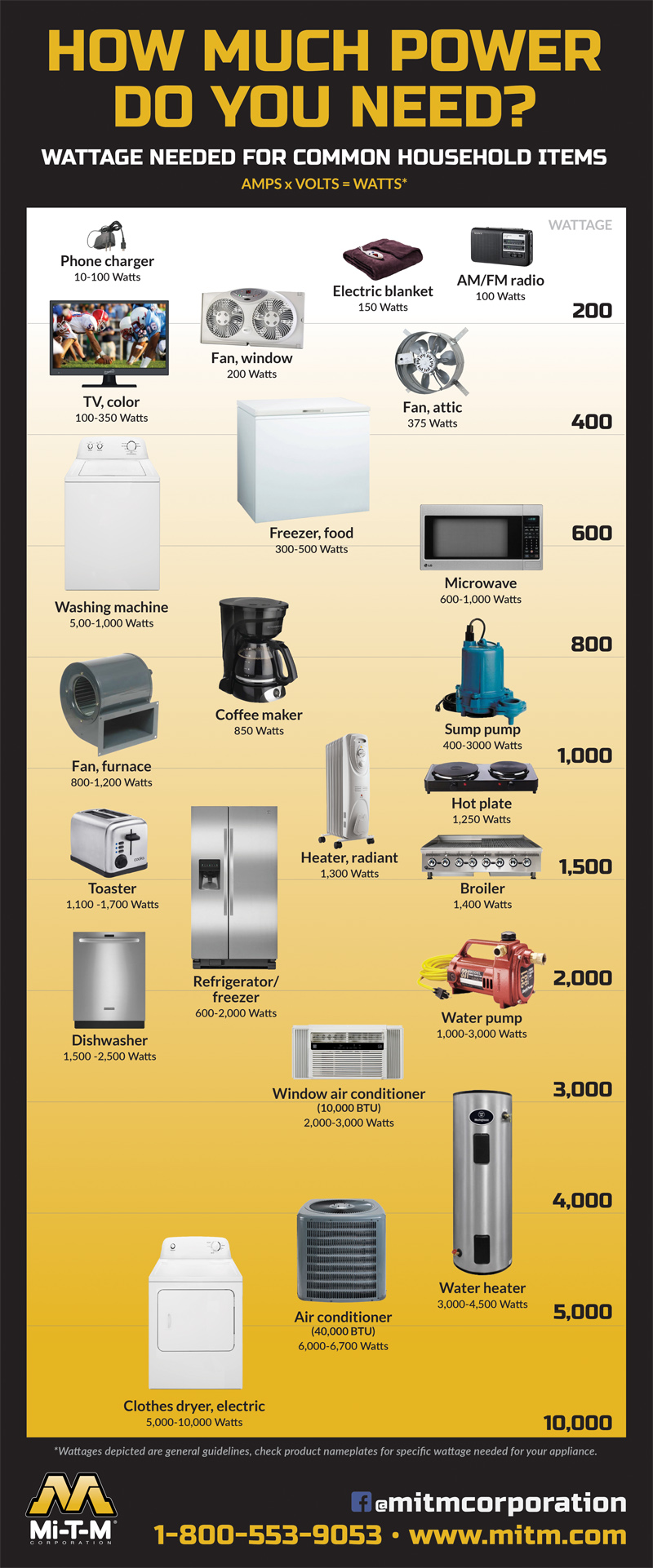 How large a generator should you buy?
Think about your electrical needs during a power outage.
What can't you live without?
Calculate the total wattage of all the appliances you wish to use—wattage can be located on each unit's nameplate or found through on the manufacturer's website—then multiply that number by three.
The total will tell you what size generator you need.
Our smallest units can easily power lights, your phone charger, and/or appliances like your radio. You choose what is most important to you. Larger generator units, for example, can keep your refrigerator running or allow you to watch TV during the power outage.
Mi-T-M's portable generators and inverter units provide peace of mind. Don't be thrust back into the pioneer days of yore. Our high-quality portable generators will return you to the 21st century.
Portable Generator Safety
For your safety—and to prevent carbon monoxide poisoning—all portable generators should be used outdoors only. Do not run a generator in your home, garage, crawl space, attic, basement or any other enclosed area. Instead, place your portable generator on a porch or patio and keep it running outside.
Contact Mi-T-M or one of our dealers today. We'll discuss the best power solutions for all your needs. Click here for more information about how to prepare for power outages.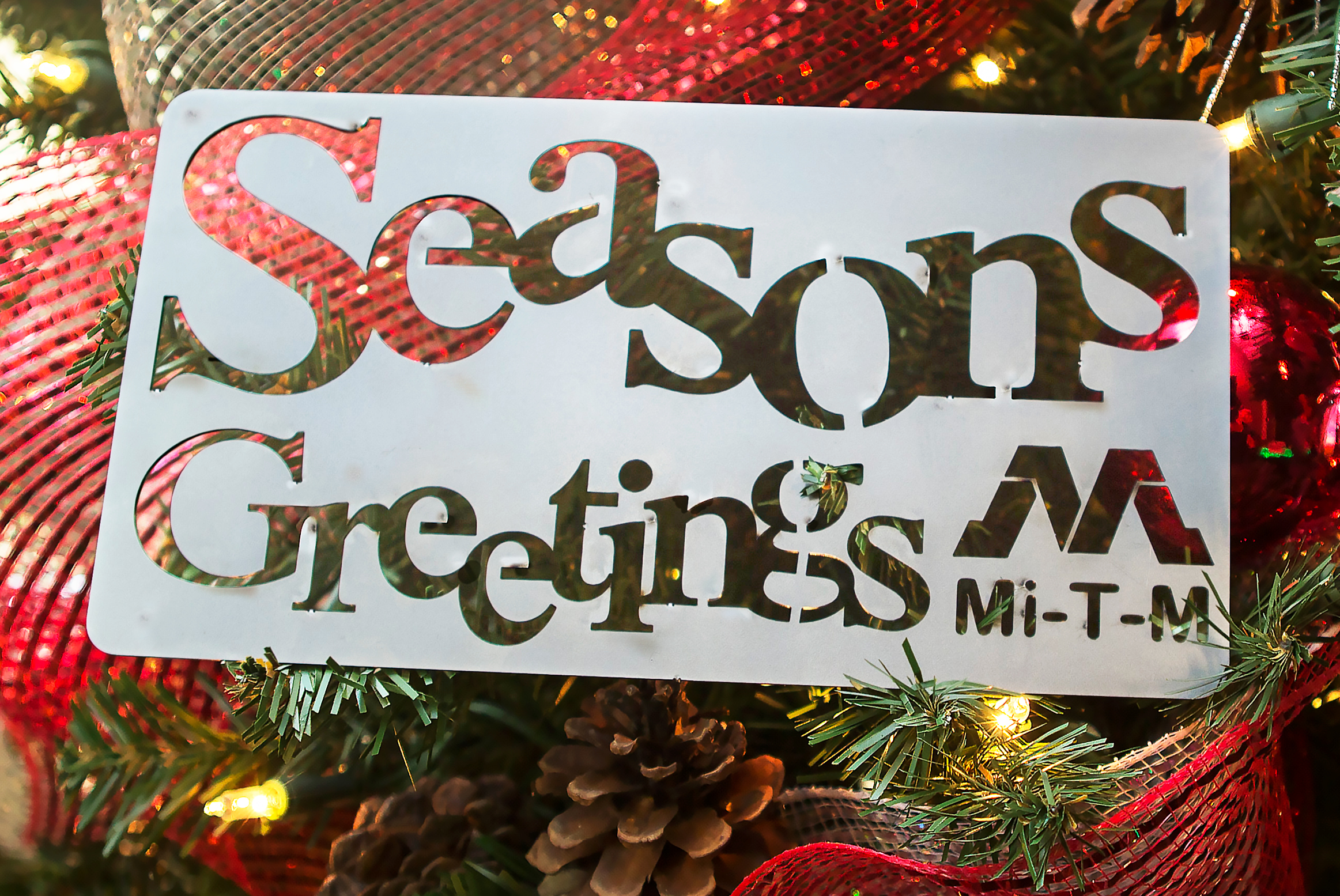 The holidays are quickly approaching which means you're running out of time to get the perfect gift for everyone on your list. Surprise the spouse, parent, sibling or friend you'll be shopping for this year by getting them their first Mi-T-M product, or helping them upgrade to a newer model.
The following guide is intended to give you the information necessary to make the best purchasing decision possible. You will need to know a bit about how the recipient of the gift will likely use it, indicating the specific model or style to purchase. Take a moment to learn about the many benefits of purchasing a
Mi-T-M product.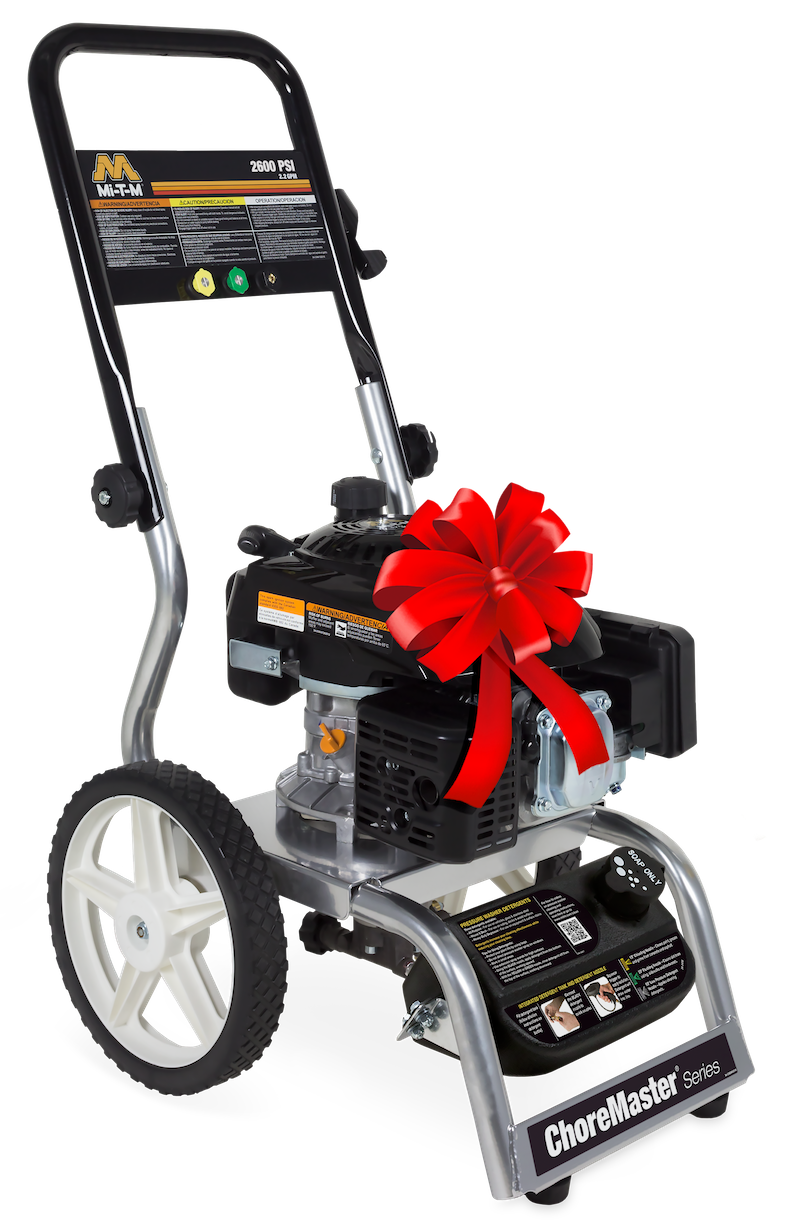 Pressure Washers:
We all take pride in owning nice things, but cleaning and maintaining them is sometimes a pain. One of the most enjoyable cleaning methods around any home is with the assistance of a pressure washer! Pressure washers make even the toughest cleaning jobs easy by blasting away the grease, dirt, and grime.
Pressure washers can be used outside the home on siding, sidewalks, garage floors, driveways, decks, playhouses, and much more. Using a pressure washer to clean property will breathe life back into a variety of surfaces, giving your home a newer and cleaner feeling.
Pressure washers come in a variety of styles, as well as electric or gas-powered. If there are cleaning jobs to take care of indoors, the electric pressure washer is the best option as it's exhaust-free. If you're looking for something that travels well, you'll want to look into the hand-carry and portable units. Moving these washers around will be the easiest part of any cleaning job.
If the fortunate recipient already has a pressure washer, maybe now is a great time to upgrade their unit. Mi-T-M products are built to last, getting the job done long after their cheaper competitors have been discarded. Many businesses offer great incentives on certain products, so keep an eye open for your opportunity to upgrade a store near you.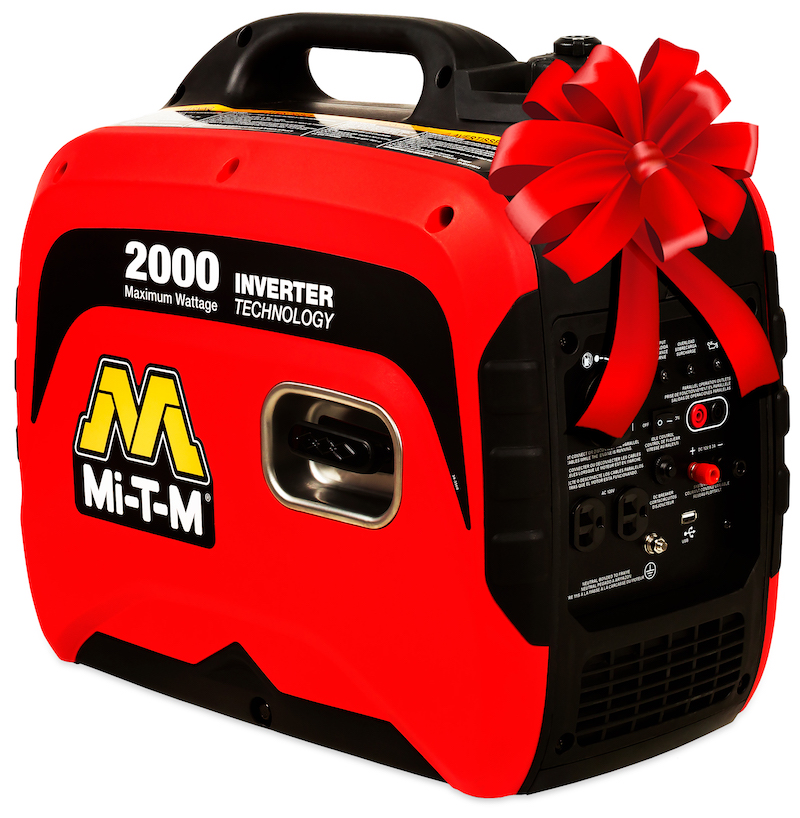 Generators:
Sometimes the best gifts are the ones you've been wanting or needing, but for whatever reason just haven't gotten around to purchasing yet. One such item that nearly everyone could use is a generator. A generator is perfect for the home, camping or other recreational activities enjoyed throughout the year. You'll be faced with two main options when looking for generators: traditional generators and inverter generators.
A traditional generator uses fossil fuel to power the engine which creates power through an alternator. An inverter generator draws power from a fixed DC source and uses electronic circuitry to "invert" the DC power into AC power. Inverter generators are much quieter than traditional generators. This relatively new technology is very popular with campers.
You will most likely be interested in gifting a recreational or emergency type generator, which is what most consumers look for when not intending to use the generator for professional applications. Mi-T-M generators are powerful enough to act as a backup power source in case a home's electricity ever goes out. These handy generators are easily transportable. The Mi-T-M ChoreMaster is a great option if you think the recipient would use it as both a recreational and emergency tool.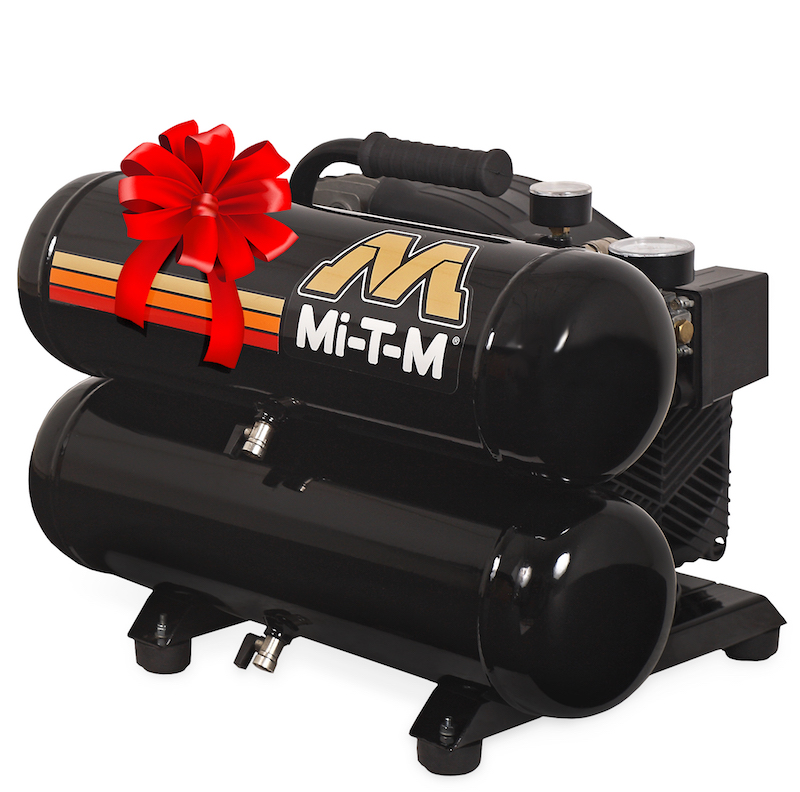 Air Compressors:
Everyone enjoys convenience, and that is exactly what Mi-T-M air compressors provide. The recipient of an air compressor doesn't need to use it on a daily basis in order for it to be an appropriate gift. Whomever you purchase an air compressor for will most likely have many uses for it beyond filling up a tire. Whether it's for construction, auto maintenance, cleaning, etc. An air compressor is a great addition to any workshop or garage.
There are a variety of consumer-grade air compressors that meet a wide range of needs. Most consumers will use a gas or electric single-stage compressor and the tanks can range in size from 4 gallon to 8 gallon. Mi-T-M air compressors are available in portable and hand-carry models. As you can imagine, a hand-carry model is easily moved with minimal effort and portable compressors are built to easily travel. The most important part of choosing between an electric and gas air compressor is knowing whether or not it will be used indoors or outdoors. An electric compressor can be safely used inside and out, as opposed to a gas compressor that should only be used outside. To get expert advice on which compressor best fits your lucky recipient's needs, contact the Mi-T-M dealer nearest you.

Propane Patio Heaters:
Give the gift of quality time spent with family and friends under the warm glow of a Mi-T-M propane patio heater. These amazing heaters stand upright as a decorative piece and distribute heat evenly around your space, warming a 210 sq. ft. radius and providing the right amount of comfort. This heater works well throughout the year and is a great way to help the recipient enjoy the outdoors and entertain guests even in chilly temperatures.
Accessories:
If you're looking for stocking-stuffer ideas, consider some of the best equipment accessories available from Mi-T-M. A rotating nozzle or gutter cleaning attachment can seriously boost the cleaning power of an existing pressure washer unit or of course, one recently gifted. You'll also find generator covers, air compressor blow guns, air hoses and more. Easy to install and use, our accessories will be a welcomed addition to any unit. Our accessories, like our equipment, are designed and made by leading industry engineers.
If you're unsure of which piece of equipment will make the perfect gift, simply talk with a dealer to get the expert advice you need. They will help you identify the equipment & models that will best fit their needs.